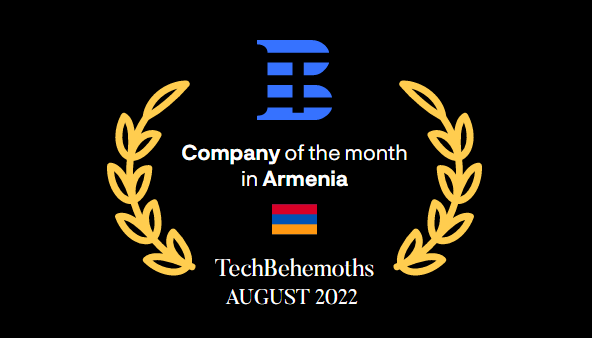 Grateful &
Responsible for
New Achievements
We are deeply honoured to receive this special "Company of the Month in Armenia" award from TechBehemoths in August 2022. We have been trusted by Techbehomths and ranked in the top 9% among all 56,000+ IT companies on the platform for our proven ability for over 13 years to create value for our customers bringing their businesses to a whole new level with high-end software solutions.
We feel grateful and responsible for new achievements and outstanding performance as a software development company empowering companies to succeed with technologies.
We also want to thank all our customers and partners who help us to provide the best service, optimize their business processes and bring on digital transformation.
Learn why our customers and partners have chosen us and how we have helped them to make a difference.
DevelopWay CJSC is an IT consulting and software development company based in Armenia. Our mission is to provide IT Services and Products available to all. With more than 13 years of experience in the software industry, we've served 30+ happy clients, completed 50+ projects, and consulted 70+ teams.
We value professionalism, creativity, commitment, and responsibility. At the same time, we tend to put a special focus on the enthusiasm and imaginative approach of the younger generation.
Partnering with us, acquire a creative and professional team caring for your goals with cost-effective R&D!
"At Digitsole we collaborate with DevelopWay CJSC and I can tell you « this team is incredible! ». Always positive and committed to deliver, I highly recommend them."
                                                                                                                                   Bruno Virieux, CTO at Digitsole

"DevelopWay Team has delivered software products on time, on budget, with international standards and quality."
                                                                                                                  Kenji Yano, Team Leader, JICA Study Team

"Beyond their deep expertise and hard work, I would like to mention their overall flexibility and agility of the team."
                                                          Zhenya Azizyan, COO & Project Manager, Enterprise Incubator Foundation             
DevelopWay has been recognized by different other leading analytics agencies, working with the best software development companies from all over the world. One of our main principles is to keep up with international standards during the software development process. DevelopWay is creating policies corresponding to globally recognized methodologies.
Trusted and awarded by TechBehemoths 
Trusted member of the AmplifyreHub
Recognized by Clutch 
Recognized by Appfutura
Trusted and awarded by Goodfirms
Recognized by Extract 
TechBehemoths is a German-sbased trustworthy platform which matches projects with reputable IT Companies from all over the world. Today they are on google page 1, position 1 as a leading analytics company recognizing the best software development companies in the world. The key factors for awarding the most reliable software development companies are
capabilities of the company
experience of the company
digital presence
users' engagement
TechBehemoths provides recommendations to customers when dealing with each company listed on their platform, guiding them through interactions with the selected software companies and simplifying the process of choosing a partner.